I started out intending to make the large version but it is very large soI ended up  making the  smaller  version.  Besides having fewer squares, the smaller has stripes while the larger is the outline of squares.
These are the colors I used:
Color Chart used: pagoda (dark teal)=a or Section 1 light violet=b or Section 2 blue/pink/purple (variegated) =c or Section 3 light blue=d or Section 4 dark purple=e or Section 5 dark blue  (midnight) =f or Section 6 grape=g or Section 7
Log Cabin Country Throw (Intermediate)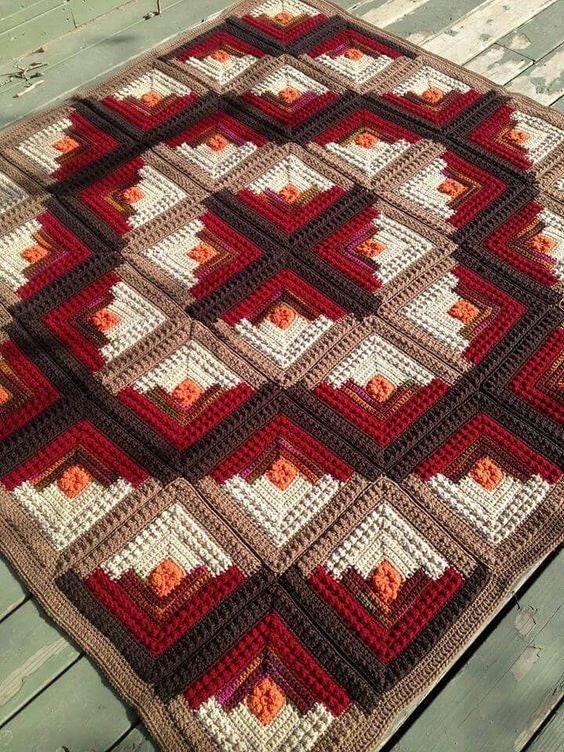 Original Chart:= Carrot (A)= Buff (B)= Cherrycola (C)= Sandy Print (D)= Burgundy (E)= Cafe (F)= Coffee (G)What I found out while working the Log Cabin pattern: The squares will work up quicker if you do them section by section.  Do all the squares Section 1, then add Section 2, then Section 3 for all of them and so on.  This way you do not have to refer back to the pattern for each section row and the whole thing goes faster.  
Assembly can be confusing.  The throw that I did ended up being the smaller version with the subtle diagonal stripes as pictured here.  I followed the chart and sewed all dark blues together and all dark plum together making sure the light blue sections were facing in the right way.  I started with the bottom row and worked up.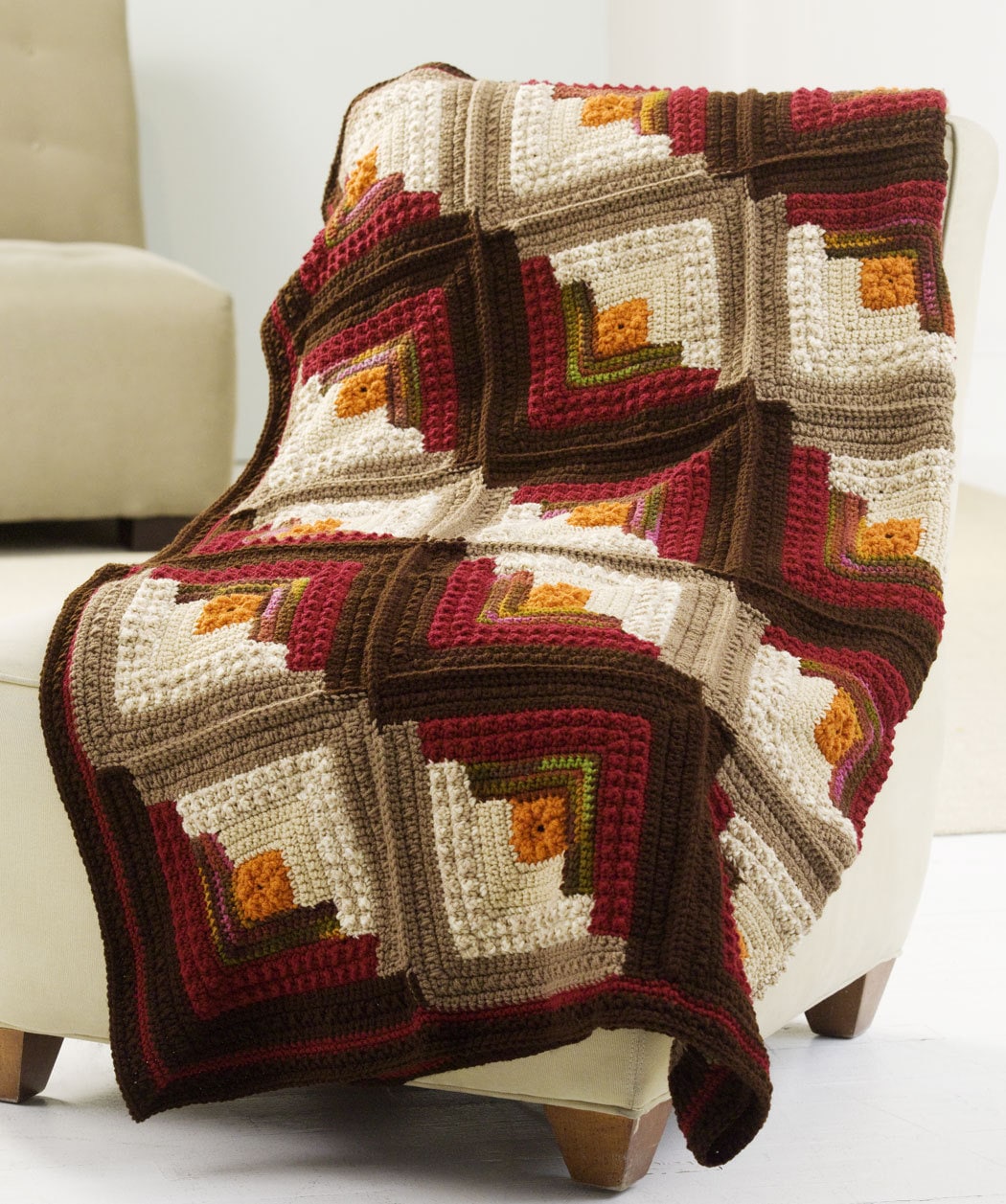 For the border I did a signal crochet row in dark purple, then dark blue and finished with a row of blue/pink/purple variegated.  The result was amazing. The types of yarn I used were varied by grand but all were worsted weight.  However, mixing brands was not the best idea as they will work up a little differently.  For example, the center dark teal is Simple Soft and worked up slightly smaller than the border Red Heart yarn.  Also, the raised effect got lost so I had to make the stitch longer to compensate.  Instead of doing an elongated double crochet I used an elongated double triple.  Section 7 was done in Bernat soft variegated yarn and the raised part of the pattern did not show up so I had to draw up the long half-double crochet stitch twice to make it show up.  Next time I will use all of the same brand of yarn.  
Finally, keep close count on each and every row.  If the stitch count gets off in the slightest the whole project is in trouble.  The extra effort is well worth it.  The finished product is amazing.